Using Google Business is one of the best ways to improve your floral business website's visibility.
As small business owners, we know that florists are always on the lookout for simple and direct ways to stay in touch with customers along with ways to reach new customers with ease. Google Business Profiles – formerly known as Google My Business – is a great way to reach people in a direct and efficient manner.
This platform is easy to use and requires little time investment, yet it can provide your business with wonderful rewards in the form of new customers. Learn more about Google Business Profiles and how you can use it to your advantage.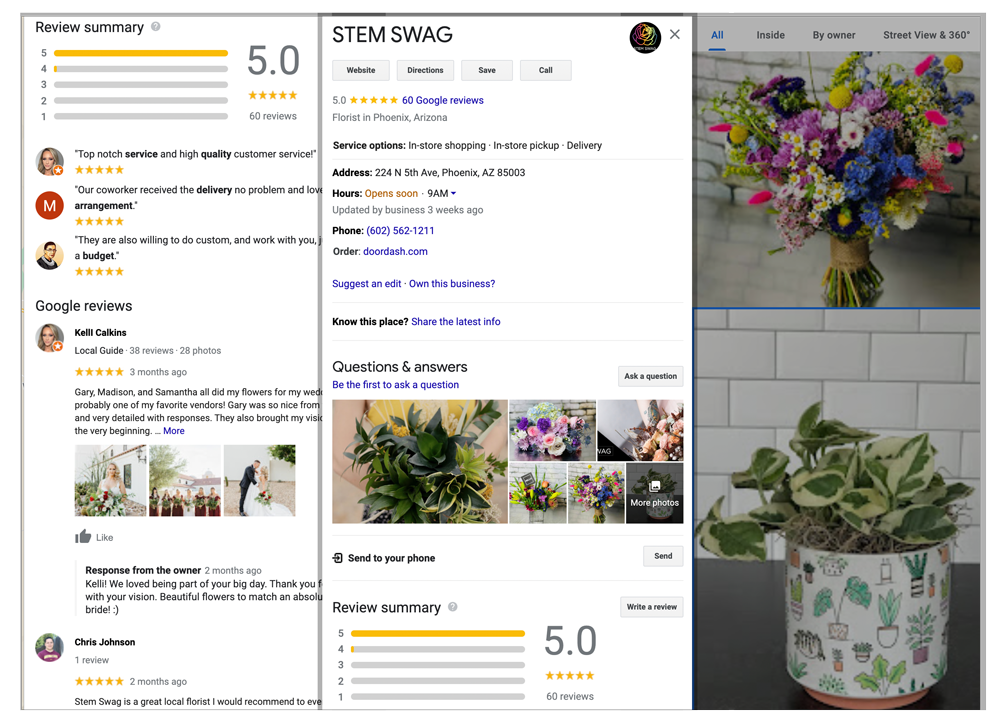 Image of Stem Swag Florist Profile via google.com
What is a Google Business Profile?
Google is one of the first places that potential customers look when they want to find information about florists in their area. More than that, they likely use this search engine to learn more about your business in particular: the products you offer along with other experiences people have had when shopping with you.
You may be wondering – why should I spend my time on this? Google Business is important because of:
Improved Search Visibility: Local Serch Results
Maps Your Floral Business Location: This allows the customer to find and navigate to your brick-and-mortar store and website more easily.
Allows for Customer Interaction: Allows for customers to interact with your business by leaving reviews and uploading their own photos. Every review counts, and every photo upload counts!
The proof is in the numbers! ​​An interesting statistic is that customers are 2.7 times more likely to consider your business reputable if you have a complete Google Business Profile. In addition to that, seeing a Google Business Profile will make them an astounding 70 percent more likely to actually visit your location.

Image via business.google.com
Getting Started With Google Business
To sign up make sure you have a Google account. If you have one and are logged in, you will automatically be logged into the Google Business Manager.

Image via business.google.com
Step 2: Add Your Floral Business
Enter your Floral Business name.
If it does not appear in the drop-down menu, Click Add Your Business to Google.
Next enter and select Florist as the appropriate category for your business and click Next.

Image via business.google.com
Step 3: Enter Your Floral Business Location
Select Yes that you have a physical location that customers can visit your location.
Next, enter your Floral Business Address. Google may require you to place a marker on the location on a map.
Then click Next.
Note: If you don't enter a physical address, Google will ask you to specify which region you're based in.

Image via business.google.com
Step 4: Contact Information For Your Floral Business
Next, Enter your contact information, Business Phone number, and website.
Check over your information and click Next.

Image via business.google.com
Step 5: Verify Your Floral Business
Enter your real Floral Business physical address, not a post office box.
This information is only to verify your business and is not displayed on your Google Business Profile or shared with the public.
Check over your information and click Next to verify your account.
Note: Physical location businesses will get a postcard by mail to verify their location, Service-area businesses can be verified through an email address. Once you receive your five-digit code, go back to Google Business Manager to verify.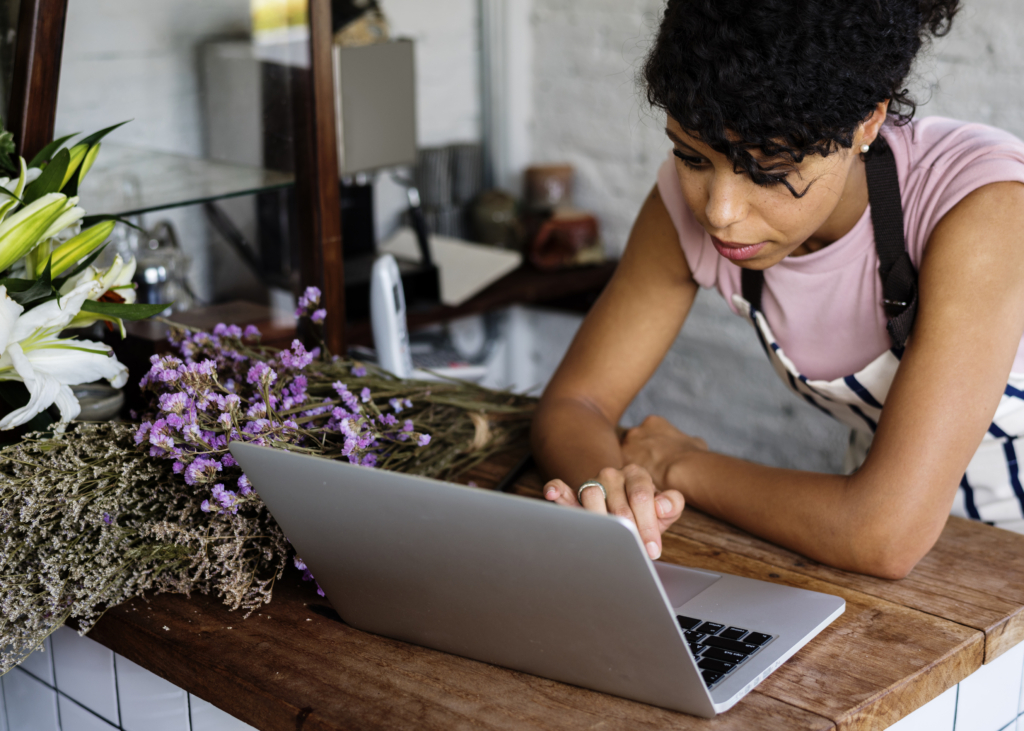 Optimize For Local Search Rankings
Now it's time to optimize your Google Business Profile to get the most value out of it. Remember that Google determines local search ranking based on three key factors:
Relevance

: How well your Google Business listing matches a search

Distance

: How far your location is from the search or searcher

Prominence

: How well-known your business is (based on factors like links, number of reviews, review score, and SEO)
With that being said, below are a few tips for optimizing your page to increase the likelihood that you appear in a search for florists in your area.

Image via business.google.com
Google Business Profile Manager
Now that you have completed and verified with Google Business, let's take a look at the various sections of the Profile Manager that will require some attention.
This will be your Main Hub for your Google Business Profil, here you can do a little bit of everything. Google Business is constantly adding new features, and many businesses, small and large, fail to take advantage of them! The next section is going to examine some of the important features you can access on your Google Business Profile Manager
Google Business Profile Information
This is one of the most important pages for your Business Listing. Everything that is in the main column, under the Business Name, should be filled out ASAP. All of this information can be shown with your Google Listing.
This includes:
Business Name
Categories
Business Location
Service Areas
Hours and Special Hours
Phone Number
Website URL
Payment Methods Accepted
Short Description
Opening Date
Photos
We'd like to quickly highlight a few functions from this page that are not utilized as much we think they should be:
Photos: Upload your Photos! This is extremely important. Businesses that don't have many, or ANY photos will find that they have a harder time ranking highly in the Local Search Results. You should have the following photos that you upload yourself:
Logo – Your Business Logo
Cover Image – This is the grand feature photo and should correspond to the services you offer.
Product – Upload photos of the arrangements that you yourself have created for customers. You can also upload photos of the products as seen in your store.
Service Areas: Previously Google prompted Businesses to choose a Radius on their map to indicate how wide their service area could be. Now GMB seems to prompt you to choose from Delivery Areas such as Cities and Zip Codes. It is advantageous to type in as many as are applicable to your business. Be honest, of course. But don't short sell your business's reach by only including your primary area.
Opening Date: This one is applicable to up-and-coming businesses, that are still getting their ducks in a row. Our advice to you, start this as soon as you are able! Your Local SEO Ranking can be influenced by how much people engage with your Google Listing. If you start building this momentum before your business is even open, you may find that people in your area become aware of your business and ask you questions before it is even open!

Image via business.google.com
Google Business Posts
Google Business Profile is the perfect place to run an offer or promotion for your floral shop – particularly around holidays. Now would be a great chance to try it to promote Valentine's Day sale! When you add an offer to your profile, anyone who Googles your shop will see this on the search engine page, further enticing them to take advantage of your sale or promo. Here are the steps to add your offers to your profile:
Click Posts in the left-hand column
Click the Offer tab in the popup
Upload your image – this makes the offer more eye-grabbing!
In Offer details write a brief description or summary of the offer
In Offer title write a title that will grab the attention of your audience
Add a Start Date and End Date for the offer
Add a Coupon Code (if applicable)
Add a URL the customer will need to use to redeem the offer (if applicable)
Add the text of any terms and conditions applicable to the offer
Note: Keep in mind, a post made here will only last for 7 days maximum, and can only be 1500 characters MAX. So it is important to be concise, and to have good timing with your posts!

Google Business Reviews
Encourage and answer reviews and questions on your Google page for further effectiveness. Good reviews are very helpful in allowing new customers to trust your business. Reviews also improve your Google ranking. Remember to ask your customers for reviews. This can be done on email receipts or on other forms of social media.
To share your review request link, follow these steps:
Click on the button that says Share review form.

Copy and paste the link into a message to customers, or into your autoresponder and online receipts.
You should also take the time to reply to reviews on your Google profile. This makes your overall brand and business seem more trustworthy to those visiting your page. Make sure to respond in a professional manner and in your brand voice. Especially when replying to a negative review, be honest and upfront. Always offer an apology and method of contact when needed. You can view and respond to reviews by clicking the Reviews tab in the left menu of your Business Profile Manager.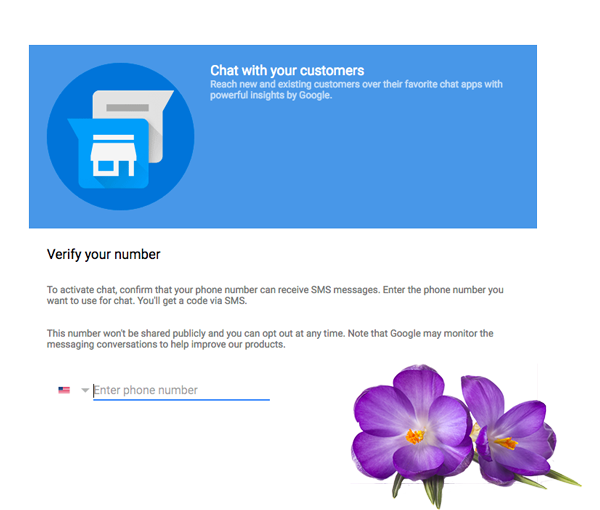 Google Business Messaging
Customers can now send messages to your Business directly from the Search page. This is a legitimate way to directly communicate with potential customers! You may find that people reach out to you directly through this Messaging function, make sure to pay attention to your Homepage, to see when you get new messages directly from customers searching online.

Image via cloud.google.com
Google Business Insights
From this page, you can quickly get a view into how people engage with your Business Listing on Google Search, and also Google Maps.
When people see your listing from Search or Maps:
Do they call you directly?
Do they click on your Website button?
Do they ask for directions?
Having this information can be helpful while you are getting to know your customers, and learning how people find your business.
Florists, how has Google My Business helped your floral business in the past years? Please share your feedback in the comment section below. If you're getting ready to create yours, let us know any questions you have about the process in the comments section and we'll do our best to help!
____________

Floranext makes great florist software. Florist websites, floral POS, florist wedding/event proposal software, and florist technology. Let us know if you want a free demo or try our software for free here.

Tags: